Solitaire is one of the most exciting card games that provide entertainment like no other card game. It is super fun to play and it is also a perfect mental exercise that can sharpen up your mind. Although this card game is mostly played by one player, Solitaire Social allows multiple players to enjoy it at once. Playing Solitaire is much more interesting and exciting if it is played with friends. For that reason, in this article, we will reveal how it is possible for a group of friends to play the Solitaire Social game.
What Is Solitaire Social?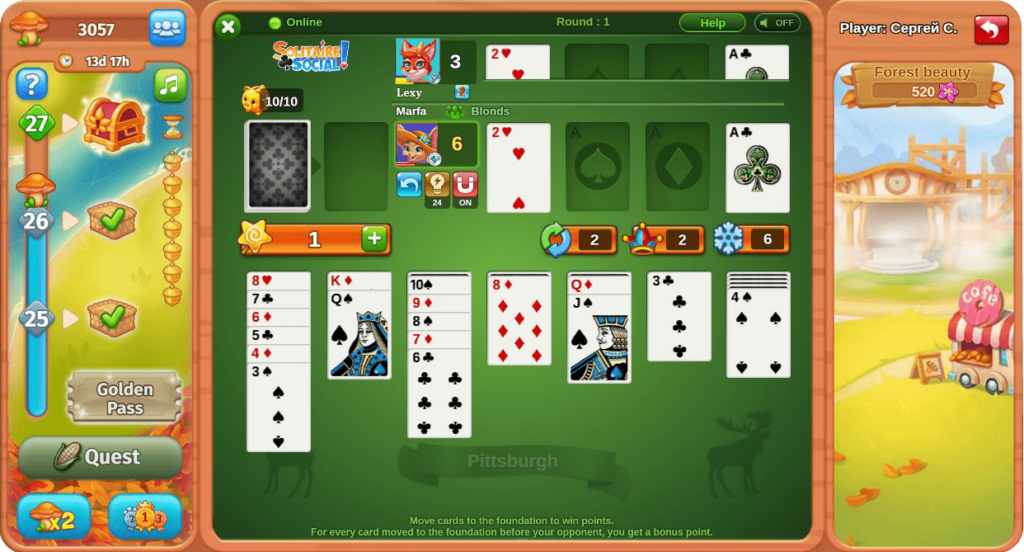 Solitaire Social is one of the best versions of Solitaire that can be found online, as it comes with many great features that can definitely please every player. This Solitaire game can be enjoyed by experienced players as well as by beginners who are just starting out with this type of card game.
If you aren't familiar with the concept of the game it involves a deck of playing cards where some of them are open while some of them are face down. The goal of the game is to organize all of the cards into four piles (suits) in ascending order starting from Ace up to King. These are the main rules of every Klondike version of Solitaire, but Solitaire Social comes with several additional features that make the game even more enjoyable. Solitaire Social features some very helpful boosters that can assist the players with the game and help them win. These boosters can help the players in the following ways:
Shuffle – when used it will shuffle the face-down cards with the draw pile, which will completely change the layout of the table
Joker – the joker card can be placed anywhere on the tableau as it can be turned into any card
Magic – will pull out one hidden and very useful card and automatically play it into its foundation
Freezer – will freeze the opponent's cards for 20 seconds, which is more than enough to take advantage in the game
How to Play Solitaire Social With Friends?
If you've been playing Solitaire by yourself for a couple of years then it is time you learn how to enjoy this fantastic game even more by playing it with your friends. All you have to do is invite your friends to Solitaire Social and let the fun begin. But, before you invite them over, you will have to create an account at Solitaire Social, which is very easy to do and can be done in just a couple of minutes. You can pass the registration at Solitaire Social through your Google or Facebook account, which is an even easier and faster approach. After finishing that you can start playing Solitaire Social by yourself. Adding friends at Solitaire Social is also a very easy process, which is done by accessing the "Friends" menu and searching for your friend's ID or name. Or you can get your own ID number and send it to your friends that are interested in playing Solitaire Social with you. Your friends will then simply enter your ID number in the dedicated box and you will become friends in Solitaire Social. However, you are not allowed to play against your friends at this particular moment, which might make some players angry and disappointed. But, it is worth noting that being friends in Solitaire Social means that you can help each other in many ways. In Solitaire Social you are allowed to send and receive generous gifts, clients, and keys from one another, which can boost your account and your chances of winning. You can compete with your friends in Solitaire by conquering new levels and comparing your major achievements in the Hall of Fame. This makes the game much more interesting as playing with your friends provides an additional dose of competitiveness. Actively communicating with your friends in Solitaire Social will provide much better progress in the game and move you a step closer to the top positions on the rankings. Creating your own team, or joining a team created by your friends on Solitaire Social will give you a chance to fight for leadership amongst other Solitaire players. It is worth noting that there is a special kind of Solitaire that you can enjoy with a friend called Double Solitaire. This game involves two friends that use two decks and on top of the table, there is room for eight Aces at once.
Finding New Friends at Solitaire Social
Solitaire Social is a highly popular online game that is played by many players from all around the world. That means that every player can search and find multiple friends in Solitaire Social and help each other boost their accounts and their chances of winning. The Solitaire Social community is very big and on this online gaming platform, you are allowed to send friend requests to another player from any country in the world. Even your opponents can become your friends and together you can reach new levels and take a step towards the top of the leaderboard. In the "Friends" menu you will find the "Find Friends" tab where, as the name clearly indicates, you can search for new friends to add. Don't hold back in sending a friend request to other players or even sending a request to join a certain team that features a group of friends. Sending requests is the only way for finding new friends to play Solitaire Social with, where you get to see who the better player is. With this approach, you will gain many friends on Solitaire Social where you get to share your experiences as well as send and receive many generous gifts. You can even find new Solitaire Social friends on Facebook as Solitaire Social has an official site on this social media platform. There you can also find out which of your Facebook play Solitaire Social and contact them about becoming friends in the Solitaire Social game. Additionally, on the Solitaire Social Facebook page, you will find news updates about the game such as information about new promotions, special events, unique contests for the members, and drawings.